Employers' confidence in making hiring and investment decisions turned positive for the first time since February, according to the latest Jobs Outlook report from the Recruitment & Employment Confederation (REC), signalling a turning point as companies start to look ahead to recovery.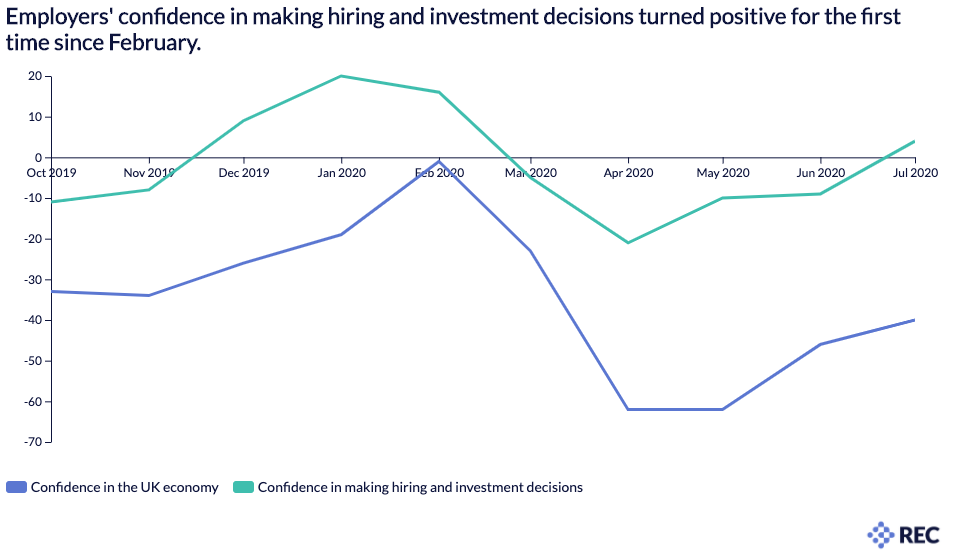 Dawn of a new normal
There's no escaping that Covid-19 continues to impact how we work and will do so for many months to come but as some semblance of normalcy returns, it's an opportunity to get ahead of the curve and embrace the world of virtual recruitment.
Video conferencing is nothing new – the benefits of a reduced carbon footprint have been touted for many years. But who could have imagined that online platforms such as Zoom and Microsoft Teams would be our only connection to the outside world during months of lockdown?
Many businesses found ways to adapt to this new remote way of working and continue their critical day-to-day operations – some even interviewing, onboarding and inducting new staff, virtually. And in the midst of health and safety concerns, there can be no better time for technology to play a crucial role in recruiting.
On the road to recovery
A recent FT article reported that 'UK shed nearly 750,000 jobs during coronavirus crisis' – it's shocking to read. Many of those jobs you'd hope will return in some form or another once the virus has been contained; so, if you're looking to recruit, it's the ideal time with so many high-quality immediately available candidates on the market.
"We're excited that banks and lenders are reaching out to us again to fill vital roles," says Chris Notley, Managing Director at Chamberlain. "Because we place candidates nationally, online platforms have always played a key role in finding that perfect match, so it's not a new normal for us – it's our normal."
Don't delay in hiring 
Whilst diaries are relatively clear with people working from home, why not take advantage of the online platforms to interview, onboard and induct new starters? You'll reap the benefits when business activity picks up.  And you'll avoid the rush for talent!
Once Covid-19 is behind us, we may discover that this work-from-home experiment will see a hybrid model of working emerge, opening up a whole new world of qualified applicants.  It's true that the only constant in life is change…
If we can help you in any way, please do contact us. Here at Chamberlain, we specialise in attracting banking and finance talent for sales, product, risk, operations, relationship management and compliance positions. We work in full partnership with your business to search for your most valuable permanent hires.
Chris Notley
Managing Director
chris.notley@chamberlaincareers.com