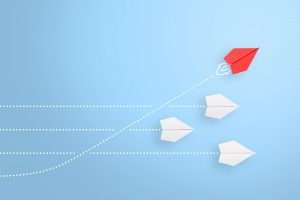 We work (almost) exclusively with growing banks and small lenders, following their progress and the industry closely, so we're well informed and equipped to find those crucial hires to drive the business forward. 
Naturally, our disciplines mirror demand, and we concentrate on five: relationship management, business development, operations, risk and product management (PM).
Product management evolution 
New ways of banking have unquestionably impacted product management with more focus on digital as fintechs take a slice of the market.
Let's take overseas payments as an example: transferring money takes days using traditional banking means, but challengers like Revolut and Wise provide faster, cheaper, and more accessible international money transfers through apps – reducing the process to minutes rather than days. And there are many more examples where challengers pivot to one small product area that big banks typically offer and then do it faster, cheaper, and better.
The art of product management 
It's critical to get the product management role right when building capabilities for success in the digital era, so recruiting highly qualified and experienced PM professionals is essential.
"I've noticed quite a lot of product managers for the big banks joining newer banks, specialist lenders and fintechs," explains Chris Notley, MD at Chamberlain. "They need to be tech-savvy and able to learn other products pretty quickly to succeed in this innovative, technology-focused environment."
But the challenge for these big bank candidates who've developed significant strengths in one or two products is that they'll likely be managing multiple products for these smaller businesses.
"So, what we look out for in candidates is a really deep understanding of the methodology of product management and product development as well as their core product experience," continues Notley.
And we mustn't forget that banking institutions and challengers can be culturally poles apart, so the ability to adapt to a faster-paced and agile environment is equally important. It's not for everyone.
Ingredients to success 
Finding candidates who'll fit your business and product area perfectly depends on the recruiter you choose: does the recruiter have the knowledge, ability, expertise, network and negotiating skills to secure the best candidates?
Suppose you find yourself doing most of the talking during a recruiter briefing; it may become evident from the quality of the candidate shortlist that there isn't that depth of knowledge and experience for that recruiter to attract 'A' players. The quality of the recruiter's questions is likely to point to an understanding of your business, industry, and candidate requirements to find the exact fit.
Is Chamberlain right for your business?
Below is a sample of product placements made for our clients:
Senior Product Manager – UK clearer – business & commercial lending products
Savings Product Manager x 2 – established challenger bank
Head of Product Management – new entrant challenger bank
VP Trade Product – global bank
Director Trade Product – UK clearer
Trade Finance Product Manager – fintech
Director x 3 – Supply Chain & Receivables Finance – fintech
Product Manager – SME Lending – new entrant challenger bank
Product & Proposition Manager – Wealth Products – established challenger bank
Head of Deposits Product Management – new entrant challenger bank
Director – Supply Chain & Receivables Finance – UK clearer
We've placed product management talent across many levels throughout the country for seven years. We've experienced a shift as innovative products powered by formidable technology are changing many businesses' traditional product management roles. As a recruiter, we are well-positioned to find PM talent for your business.
If we can help, please get in touch: