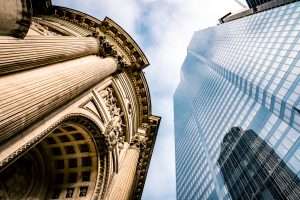 When a 150+-year-old private banking and wealth management business diversified into commercial banking, they engaged Chamberlain to find a blend of real estate finance (REF) and commercial bankers UK-wide.
On the radar
Our work with one of its subsidiaries, an established retail bank, had already got us noticed. When they expanded into the property finance sector, Chamberlain attracted talent to the retail bank's new commercial business, which focused on lending to real estate finance investors and developers. And it was this success that initiated our introduction.
There were similarities between the two organisations: banking longevity and stability, which appeals to risk-averse bankers; diversifying into new competitive markets; needing specialist resources and teams to build capability; London and regionally based offices.
All these factors played to our strengths: we are well-practised in attracting well-connected savvy bankers across multi-levels and multi-specialisms UK-wide to support rapid growth and diversification plans. It's what makes us stand out.
Beyond Real Estate Finance
For the retail bank, we'd placed predominantly real estate finance talent. However, this private banking and wealth management business had a different focus: they were looking for bankers to deal with trading businesses other than real estate finance – this was an opportunity to prove our versatility and know-how beyond REF.
Eleven roles, two locations
We weren't the only recruiter attracting experts for this new commercial business, but we did fill eleven roles in two locations (London and Manchester):
Director, Real Estate Finance (REF)
Senior Commercial Bankers x 5
Portfolio Control Manager
Assistant Relationship Manager x 2
Product & Proposition Manager
Credit & Portfolio Manager
Our first success was placing the REF Director for the London team. Next, we worked closely with the brand-new Manchester team, who'd appointed a head of that new division – we placed three senior commercial bankers to get the team up and running. The other roles followed, with the latest candidate placed in late December 2022.
"These weren't particularly unusual or challenging placements," says Chris Notley, MD at Chamberlain. "But it does highlight our capability in building teams – in this instance, associate and mid-level experts in product, credit, and frontline roles."
Multi-level, multi-specialisms, geographical reach
Our disciplines range from relationship management and business development to operations, risk, and product management – an essential combination when recruiting for small banks and growing lenders. And that's why we successfully attracted experienced big bank professionals across different disciplines to join this new commercial banking business.
We love playing a part in supporting a company's growth, and the combination of disciplines, multi-level, multi-specialisms, and geographical reach allows us to do just that.
ABOUT CHAMBERLAIN
Clients like working with us – they describe us as refreshingly honest and open, well connected with a deep knowledge of banking and financial services (see feedback). We do our research and only introduce the most relevant candidates that are a cultural fit.
Please get in touch:
Chris Notley
chris.notley@chamberlaincareers.com
Managing Director