Chamberlain's capacity for building new teams in real estate finance, commercial banking, and alternative finance sectors underscores our expertise across the lending lifecycle.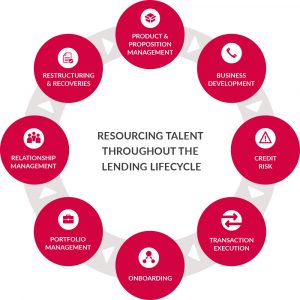 We excel in sourcing top talent across eight distinct disciplines, spanning product and proposition management to restructuring and recoveries, effectively connecting interconnected areas.
From New Locations to Fresh Sectors 
­­­­­ We enjoy the opportunity of building teams, particularly for banks and lenders eyeing expansion into fresh geographic markets or diversification into new sectors. This is where our market knowledge and insight set us apart.
Here are three notable instances where we successfully built teams when clients were launching new initiatives or expanding their reach:
Setting up a development finance team for a commercial bank.
Supporting a private bank's entry into the commercial banking sector.
A property finance-focused bank's expansion into lending to various trading businesses, including healthcare, hotels, and manufacturing.
Building Teams from the Ground Up 
The journey of building new teams starts with the strategic placement of key players, such as managing directors or department heads. This initial step lays the foundation for the team's organic growth, seamlessly adapting to meet evolving client requirements.
Identifying the right team leader is a critical part of our work. When the perfect person is found, trust and confidence is established. Our approach goes beyond simply filling roles; it revolves around building excited and motivated teams to succeed.
Why Top Candidates Love New Teams 
Prospective candidates are drawn to new teams. They want to be part of something fresh and dynamic and are eager to contribute to the team's success.
We understand this enthusiasm, and we use it to our advantage. We tell the story of the team's vision and goals and highlight opportunities for growth and development.
And when we tell the story of a new team, we're not just talking about the team's goals and objectives. We are also talking about the culture, its values, and its impact. We want candidates excited about the opportunity to make a real difference.
Building Winning Teams: Chamberlain's Expertise 
Our strengths lie in our expertise at all seniority levels, our geographical reach, our diverse disciplines, and our extensive experience:
Seniority: We understand senior roles in the lending industry and have a network of highly qualified candidates at all levels. This means we can find the right leaders for your team and ensure they are a good fit.
Geography: We've built teams all over the UK, showcasing our proficiency in handling diverse locations and supporting clients' regional growth and diversification.
Disciplines: We recruit for a wide range of jobs in the lending industry, from product management to restructuring. This adaptability helps us to meet diverse client needs.
Experience: We've built teams for many clients, from start-ups to established banks and lenders. Our track record shows success and an innate ability to adapt to each client's needs.
Stories That Speak Volume 
Banks and lenders increasingly seek to expand their reach and diversify their offerings in new markets. Here are two case studies that demonstrate our expertise in this area:
Case Study 1: A London-centric bank aiming to diversify and expand its offerings across the UK sought our help in establishing teams in six major cities. We placed over 60 professionals, filling roles from assistant relationship managers to regional leaders in new and existing locations, supporting the bank's transformation into different markets.
Case Study 2: A global working capital provider sought our expertise building their risk function in northern England. Being a young brand with bold expansion plans for a new risk hub beyond major cities presented a unique challenge. Nevertheless, our history of sourcing talent for banks in non-traditional locations and effectively communicating the advantages of joining a promising and entrepreneurial newcomer enabled us to build new teams successfully. We placed over 50 professionals in roles from senior associates to managing directors/global heads.
ABOUT CHAMBERLAIN 
If you're looking for a partner to help you build a winning team, Chamberlain is the right choice. We have the skills, experience, and resources to help you succeed.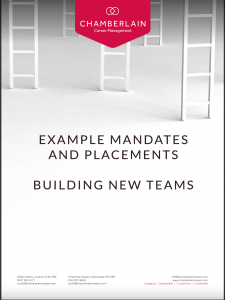 To learn more, visit our example mandates and placements web page for these case studies and more.
Please get in touch
Chris Notley
chris.notley@chamberlaincareers.com
Managing Director