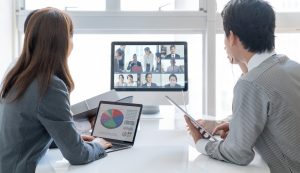 Let's talk about something that's been grabbing everyone's attention lately: remote working. Chamberlain shares a unique perspective and insight into how remote working has reshaped the industry, and our approach in identifying precisely matched candidates within this evolving landscape.  
The Power of Flexibility: A Win-Win Situation 
One undeniable fact has come to the fore: the more an employer embraces remote work flexibility, the more appealing the opportunity becomes. In recent years, we've noticed an unmistakable trend: Candidates are increasingly drawn to roles that offer the option of remote or hybrid work setups.  
"Pretty much everyone's expectations nowadays are 2-3 days in the office," says Chris Notley, MD at Chamberlain. "But clients' expectations might not always be the same, so it's understanding the client and how they'd like their people to work and then matching the right candidates." 
As part of our interview process, we delve into home vs. office working preferences and the candidate's expectations. Remote and hybrid working has become a pivotal aspect of these conversations.   
Beyond Tangibles: Well-being and Diversity Benefits
Candidates tell us that the allure of flexibility extends beyond remote work. It's about the freedom to manage time effectively, saying goodbye to endless commutes and saving time and money. It's about those extra moments spent with family and for personal passions that otherwise might have taken a back seat. 
And the positive impact of flexible working on mental well-being and overall life satisfaction isn't lost on us. This shift aligns perfectly with the growing emphasis on employee well-being and the relentless pursuit of work-life balance. 
From an employer's perspective, remote work becomes a gateway to diversifying their workforce. By tapping into talent from different regions across the UK, businesses have more choice and can inject fresh perspectives that span gender, age, and ethnicity. And regional differences in salaries can secure exceptional talent for the same or even less money. 
Navigating Challenges and Seizing Opportunities 
We've seen it all – negotiating home-based contracts for candidates, where travel costs to the office are factored in, to employees seamlessly blending work with vacations. But amid these stories of success, there's a genuine acknowledgement of the potential challenges remote work might bring.

In the sectors we specialise in – real estate finance, commercial banking, and alternative finance – face-to-face interactions have always been important. The office isn't just a place to work; it's where we connect, learn, and spark ideas. Despite the myriad of advantages of remote work, striking a balance is important. The office remains a hub for nurturing teamwork, sharing knowledge, and those spontaneous lightbulb moments.  
A Balanced Perspective 
So, as we wrap up, let's zoom out and grasp the bigger picture. Our experience provides an insider's view of how remote work has left its mark on the industry. From the practical benefits of flexibility and improved well-being to the changing dynamics of office culture, a lot is going on.  
Remote work isn't just a passing trend; it's a game-changer reshaping our professional world. We recognise it's a dynamic where employers and employees can find equilibrium – a state that fosters productivity, inclusivity, and overall well-being. Our commitment to getting it right for each client and candidate drives us forward. Chamberlain thrives in a remote work culture – it's our recipe for success.  
As remote work's ripple effect continues to be felt, it's a call for us to adapt, innovate, and flourish in this exciting new era. Chamberlain's thriving remote culture serves as a testament – it's a winning formula for us. 
WHY CHAMBERLAIN? 
 We work exclusively with small and medium-sized banks and non-bank lenders, leveraging expertise in product & proposition management, business development, credit risk, onboarding, transaction execution, relationship management, portfolio management, and restructuring & recoveries. Our approach is centred on understanding precise client needs to identify and secure talent that aligns seamlessly with your business requirements.
Please get in touch
Chris Notley
chris.notley@chamberlaincareers.com
Managing Director