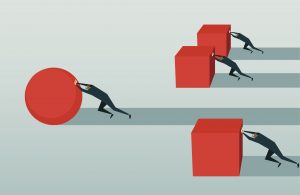 As a recruiter working with diverse clients, from pre-licenced banks and start-ups to well-established challengers and lenders across the country, what can appear to be very similar roles can pay a wide range of salaries. So, the big question is: Do you get what you pay for?
Well, it's not a straightforward answer, but let's dive into the key aspects of this complex issue to gain a deeper understanding.
Collaboration, Context, and Accurate Insights
Determining salaries is a collaboration: recruiters provide expertise and insights, clients make final decisions based on their unique circumstances, and the market sets the overall context and expectations for salary levels. And effective collaboration between these stakeholders ensures that salary offers are competitive, aligned with market trends, and attractive to potential candidates.
However, a word of caution: relying solely on data from generalist benchmarking companies can lead you astray. In our fast-paced and competitive environment, accurate real-life data is key for making informed salary decisions. Trusting general benchmarks may give you a skewed perspective, particularly if your goal is to attract top performers instead of settling for average candidates.
Experience, Expertise, and Purpose
When connecting salaries with talent acquisition, experience and expertise are crucial factors. In certain roles, such as credit analysis, professionals with deep industry knowledge are incredibly valuable. Offering a higher salary to these seasoned experts can be viewed as an investment in risk mitigation and sound decision-making, aligning with the organisation's long-term interests.
However, for ethical, community or purpose-focused lenders with different operating models and tighter budgets, offering innovative strategies to attract top-quality candidates is a smart move. Providing growth opportunities and training for candidates who may not tick all the boxes, setting smaller targets than counterparts, and actively promoting a healthy work-life balance can bridge the salary gap and attract candidates who align with the company's purpose. When the overall proposition is enticing, the culture is great, and people are willing to work for slightly less, you can secure exceptional talent.
Now, let's talk about those new banks with significant investments aiming to make a splash in the market by offering inflated salaries to lure the best talent. While these tempting remuneration packages come with aggressive targets, it's worth noting that the culture is result-driven and demanding. Those who don't meet expectations might not last long in such an environment.
Securing Exceptional Talent
So, what's the bottom line? Salaries are important, but they're not the only thing that matters when hiring talent. Experience, expertise, purpose, benefits, and work-life balance are vital in getting the perfect match. You must offer a compelling value proposition that meets the candidate's needs and goals.
Why Chamberlain? 
Clients love working with us. They appreciate our honesty, openness, and deep connections in the Real Estate Finance and Commercial Banking industries. We conduct thorough research to find the best candidates who have the skills and align with your company culture. Our clients trust us exclusively with their most valuable permanent hires.
Let us be your go-to team for talent acquisition, providing friendly and reliable service that delivers exceptional results.
Please get in touch
Chris Notley
chris.notley@chamberlaincareers.com
Managing Director