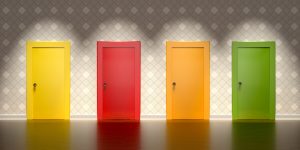 Securing top-notch bankers in a highly competitive industry is no small task, especially when other banks and lenders are vying for these talented individuals. But the challenge doesn't stop there. When current employers are also pulling out all the stops to entice them to stay with tempting offers that are hard to turn down, it makes the hiring process even more complicated. 
And it's these counteroffers that can be the biggest hurdle in successfully securing a candidate during the final stages of the recruitment process. During these delicate negotiations, the expertise of an experienced recruiter becomes highly valuable.
Interestingly, a noteworthy trend emerges regarding counteroffers: female candidates tend to be more inclined than their male counterparts to accept such offers. Therefore, it's important to be aware of this gender difference and consider it when navigating the recruitment landscape.
A Gender Gap: Women and Counteroffers 
Did you know the Institute of Leadership and Management (ILM) research has revealed an interesting statistic? It turns out that 40% of women are more likely to accept a counteroffer compared to 22% of men. This gender gap in counteroffer acceptance has caught the attention of reputable sources such as Human Resource Management and Harvard Business Review.
According to studies, there could be several reasons behind this trend: women may undervalue their skills more frequently than men and prioritise non-monetary factors like job security, benefits, and work-life balance in their career decisions. Additionally, feelings of guilt about leaving their current employer may be more common among women, even when dissatisfied. Furthermore, some women may prefer staying in familiar environments despite their limitations. Lastly, the underrepresentation of women in leadership positions may influence their perception of bargaining power when negotiating new job offers.
Chris Notley, Managing Director at Chamberlain, sheds light on the importance of addressing this gender gap. "Today, as banks strive for more gender-diverse leadership teams," he explains, "we understand the need to fight harder and present a compelling proposition when we have a preferred senior female candidate facing a counteroffer."
The Counteroffer Dilemma 
Receiving a counteroffer after announcing a decision to leave can be pretty flattering, but let's take a closer look. While a counteroffer may initially seem like a promising resolution, it often fails to address the underlying reasons that prompted an individual to consider leaving in the first place.
Candidates indeed have various motivations for changing jobs, and sometimes these reasons only become clear when they've decided to resign. And in some cases, the current employer could have offered something similar if they'd known about concerns earlier.
"That's precisely why we encourage candidates to thoroughly evaluate their desires and explore all possibilities before committing to a new role," explains Notley. "After all, there's nothing more disheartening than reaching the end of a rigorous recruitment process to discover that your preferred candidate is no longer available."
In conclusion, the challenge of securing talented bankers in a fiercely competitive industry is amplified when counteroffers come into play. The gender gap in counteroffer acceptance, with women being more likely to accept them, has brought attention to the need for a deeper understanding of the underlying factors at play.
How Chamberlain can help  
We're experts in connecting you with top-notch banking and finance professionals for sales, product, risk, operations, relationship management, and compliance positions. When you partner with us, we work closely with your business to find the perfect permanent hires, creating that compelling offer that'll position you as the preferred employer in the market.
Please get in touch
Chris Notley
chris.notley@chamberlaincareers.com
Managing Director