'We do what you do' is one way to describe Chamberlain's business, which concentrates on recruiting commercial banking and lending talent for small and medium size banks and lenders.
Under one roof
With experience comes maturity: living and breathing the sector through its economic highs and lows has given us a unique advantage – a breadth and depth of experience, knowledge, and skill to fill every requirement in the lending lifecycle.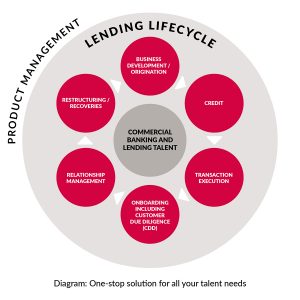 From the origination of the deal, customer onboarding, credit analysis, execution of transactions, ongoing relationship management, annual reviews of the deal, and ongoing anti-money laundering checks. Through to worst-case scenarios: restructuring if things go wrong and recoveries if it's beyond saving.
We can find the right talent for all those interconnected areas and product management, where demand for traditional talent has shifted to tech-savvy product specialists to drive products in a digital environment – read more.
So, what are the benefits of Chamberlain as a go-to agency?
Engaging Chamberlain to source your most valuable permanent hires, end to end, is a way to increase talent success, simplify the process, and save time.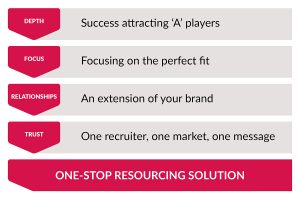 Success attracting 'A' players
High performers who bring value to a business are in great demand and unlikely to be actively looking to move jobs – and it's these individuals we want to engage. With a deep understanding of the industry, competitors, market conditions, and salary expectations, we can create a compelling proposition to attract – and secure – the best talent for your business. And we always anticipate counteroffers, so preparedness and delicate negotiations will secure those perfect candidates.
Focusing on the perfect fit
Our candidate selection culminates from understanding the business, people, culture, personalities, hiring managers, and roles – the more we know, the more focused and appropriate those shortlists become. We make it our business to know your business, so we can provide a candidate shortlist where every applicant is the right fit.
An extension of your brand
We act as an extension to your business, building brand awareness and appealing to the right candidates – we believe that strong relationships equal greater results. When a client can pick up the phone with a rushed, urgent vacancy, it's a testament that they trust us to deliver at their most critical moments.

One recruiter, one market, one message
Consistency and controlled messaging are essential to positive brand awareness and being the employer of choice for those quality candidates. So, trusting one recruiter to find talented bankers across multi-levels and multi-specialisms will provide that consistency of message and quality. And with one point of contact, it's straightforward too.
A couple of examples of our one-stop solution:
Over 50 placements from junior analysts to global heads across several disciplines for a global working capital provider – read more.
Placing roughly 20% of talent at a specialist bank ranging from assistant relationship managers to regional leaders – read more.
We do what you do, but our focus is on the people part.
Please contact us if we can help with all or part of your resourcing needs.
Chris Notley
chris.notley@chamberlaincareers.com
Managing Director